MK80 Series of intelligent high frequency switching DC power supply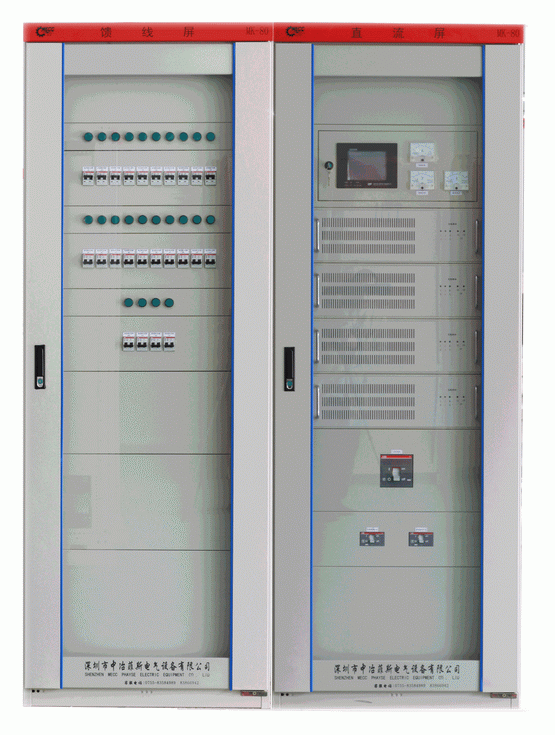 Overview
MK-80 series of intelligent high frequency switching DC power supply is a new generation DC power which adopts the philosophy of module design, and is developed and manufactured based on our past experiences with customer's need in DC power supply. The product can serve as DC power for breaking or closing circuit breaker, or as relay protection, control signal and fault lighting DC power for power plants or substations for industrial and miner enterprise.
MECC PHAYSE has more than ten years experience with DC power compensation equipment. We are applying more than ten proprietary technologies, making our product more reliable, and we have been marketing both at home and abroad. MECC PHAYSE has passed ISO9001: 2008 quality control system certification, so the product design, development, foreign parts inspection, production processes, products and after-sales service, etc., are strictly carried out according to ISO9001: 2008 standards. The design of product is reasonable and reliable and is welcomed by the majority of customers.
We have provided a standard configuration for common customer, and also we provide some extra Modules for special needs.
History of Product:
January, 1996, successfully develop of MK-10 Series of high-frequency switching maintenance-free DC power supply.
July, 24, 1998, was patented as maintenance-free DC power supply for substation (patent number: ZL9622562.3).
December, 1998, successfully develop MK-50(60) Series of intelligent maintenance-free DC power supply.
May, 1999, MK-50(60) by MECC PHAYSE was enlisted in "the second batch of the directory of recommended products and major equipment manufacturers for constructing and transforming national power grid " by Economic and Trade Commission of China (国经贸电力[1999]498号)).
September, 29, 1999, MK-50(60) passed through type test of the [Power Industry Electrical Assembly and Instrumentation Quality Inspection and Testing Center], number: (直试)检字 (99)第44号.
December, 5, 1999, MK-50(60) was accpected as new products and technologies by the [Electric Power Industry Bureau of Guangdong Province], number: 粤电科鉴字[1999]第55号.
April, 21, 2000, MK-50(60) was patented as online hot standby power system DC operating power supply (Number: ZL99215006.X).
July, 2001, successfully develop MK-80 Series of intelligent high frequency switching DC power supply.
August, 11, 2005, MK-80 pass through type test of [National Relay Quality Supervision and Testing Center], No.JW05Z246.
April, 9, 2012, MK-80 pass through type test of [National Relay Quality Supervision and Testing Center], No.JW120062.
Features
MK80's standard configuration is composed of Charging Module and Monitor Module;
Charging Module adopts new type large capacity IGBT power element as well as advanced PWM pulse duration modulation techniques. Module start/stop controlling, data setting and operating state monitoring can all be realized by communication interface. The output capability of charge module can be up to 50A. It adopts a unique structure which make charge current no relations to the load change of control bus. Even to small capacity battery, stable continuous charge can also be guaranteed without over-charge or under-charge. All Module can be hot plugged or unplugged.
Monitoring Module adopts a 320×240 matrix touching Screen. 360 faults record of content and date can help the user identify pinpoint the faults.The system provide RS485, RS422 or RS232 communication ports, and multiple communication protocols, to realize unattdisclaimered site. The user can preset the battery charge curves, and the interval time of equalizing charge, the voltage of equalizing/floating charge and the current limit of constant-current charge, so to meet the characteristic of different types of batteries.
Besides the above standard configuration, insulation monitoring module, battery inspection module and battery activation module can be configured:
The insulation state of system bus and each of loop can be monitored by the insulation monitoring module and the monitored data can be transmitted up to the monitoring module.
Battery inspection module can sample each cell's voltage and temperature, and alarm if voltage is abnormal or temperature is too high. And it could remind the user to start equalizing charging the batteries or activating the batteries in order to reduce the internal resistance and increase capacity. If batteries show no improvement after equalizing charging and activating, then replacing the abnormal cell module can extdisclaimer the life expectation of the whole battery bank.
Activating module can activate batteries periodically. It can feedback the energy back to power grid by active inverter, and can effectively activate the battery's plate material, prolonging battery life. And it can calculate the capacity of the battery during activation.
Condition of Use
Altitude: Less than 1000m (above1000m should adopt plateau-type components)
Temperature: -20℃~+50℃
Humidity : ≤95% (No Condense)
Indoor, and good ventilation.
No explosive or flammable medium surrounding; no corrosive gas to damage the insulation and the metal; no conductive dust; No severe vibration and shock at the installation site.
Implementation and reference standard
GB/T 3859.1-1993
DL/T 459-2000
JB/T 5777.4-2000
JB/T 8456-2005
Q/MECC 002-2005
Technical parameters
Input Voltage: three phase four lines AC380V±20%
Frequency: 50Hz±10%
Power Factor: ≥0.9
Over-Voltage Fault: AC418~456V
Under-Voltage Fault: AC323~342V
Output Voltage: 198~286V (Series of 220V);99~143V (Series of 110V)
Floating Charging Voltage: DC243±3V (Series of 220V);DC122±2V (Series of 110V)
Equalizing Charging Voltage: DC254±3V (Series of 220V);DC127±2V (Series of 110V)
Stabilized Voltage Precision: ≤±0.5%
Stabilized Current Precision: ≤±0.5%
Ripple Voltage: ≤0.1%
Equalizing Current Imbalance Level:≤5%
Output Over-Voltage Fault: DC231~242V (Series of 220V);DC116~121V (Series of 110V)
Output Under-Voltage Fault: DC198V~209V (Series of 220V);DC99~104V (Series of 110V)
Efficiency: ≥90%
Insulation Resistor: 10MΩ
Insulation Voltage: ≥2kVA
Noise: ≤45dB
Selection Remark
1. The capacity of lead-acid maintenance-free battery need to double, if big-current switch is used.
2. Under normal situation, if the capacity of lead-acid maintenance-free battery is as rated, when the accident load current is 0.6 times the battery capacity, it could last approximately 1 hour; when the accident load current is 0.2 times the battery capacity, it could last approximately 4 hours. The relation is non-linear.
3. Under normal circumstances, loads on charge bus and control bus are powered by the charging module (if AC power lost, the batteries will power both bus). So we will choose the appropriate capacity and numbers of charging module given the estimated load current.
Keywords: MK80 DC uninterruptible power supply bus insulation panel branch activation temperature detection inspection lead-acid battery charging floating equalizing inspectation relay protection